It was shocking to wake up yesterday and learn of the untimely passing of Philip Seymour Hoffman. As a film lover, I'd barely had time to process the
disturbing developments
regarding Woody Allen before being hit with this
tragic news
.
I assume others like myself were unaware of Hoffman's struggles with addiction. Sure, he sometimes looked like a guy who indulged in vices, but I don't recall any of the typical gossip or rumour that usually surrounds celebrities who struggle with substance abuse. It's a cold reminder that just because we follow these actors and watch them on the big screen, we shouldn't fool ourselves into thinking we truly know anything about them.
Hoffman leaves behind a legacy of diverse and difficult film characters. The 46-year-old was a rare breed of Hollywood actor who continually challenged himself and his audience with the roles that were not always likeable, but nonetheless compelling and believable. There was no such thing as a typical Philip Seymour Hoffman film.
I'd like to share a few of my favourite films by him, in no particular order. He was a prolific worker and didn't constrain himself to leading roles, even though his star power eventually called for it. He would often appear in smaller parts, stage productions and his passing will certainly spur me on to seek out some of his lesser known works.
Boogie Nights (1997)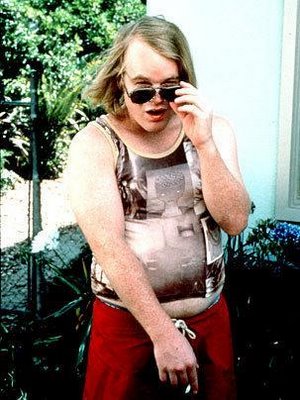 This where I was first introduced to Hoffman and right away I knew this was a guy who didn't shy away from a challenge. He played Scotty J., the porn production assistant who harbours a deep crush on Mark Wahlberg's Dirk. Hoffman played the part with sensitivity, self-loathing and desperation and you could argue it was the first role that really turned some heads.
Although he had briefly appeared in Paul Thomas Anderson's debut Hard Eight, he solidified their union with Boogie Nights. The two would go on to form a fruitful partnership of director and muse, culminating with the head-scratching epic, The Master.
Almost Famous (2000)
Having spent a good many years as a
music critic
, of course a portrayal of Lester Bangs is going to win me over. Hoffman plays Bangs as a mentor to the young rock journalist in Cameron Crowe's autobiographical recount of his days as a Rolling Stone scribe.
Today, Crowe
posted a few words
about Hoffman's scenes in the film, calling it the "soul of the movie." I remember seeing it and thinking Hoffman was the only truly authentic rock n' roll element of the movie, and the only guy who actually looked like he existed in the 70s.
Along Came Polly (2004)
Hoffman will likely be remembered best for his ability to play unhappy characters who you can't help but like. Along Came Polly is no different. Though it's basically a goofy rom-com vehicle for Ben Stiller, Hoffman absolutely steals every scene as Sandy Lyle, a grace-less former child star who goes through life with a massive chip on his shoulder.
He plays Stiller's best friend and their scenes together - especially on an outdoor New York basketball court - are a thing of beauty. Hearing Hoffman howl "Make it rain" every time he bricks a shot is pure comedic gold. Also, his scene giving Stiller relationship advice while draining a pizza slice of its grease will forever be lodged in my brain.
Owning Mahowny (2003)
The number of Hollywood films shot on location in Toronto are countless. But how often does the plot of the film actually take place in Canada with the city allowed to play itself? This was a rare treat in which Hoffman played Dan Mahowny, a squirrelly Toronto banker who starts embezzling money to feed his crippling gambling addiction.
Hoffman nailed the subtleties of the role and the stodgy Canadian banker culture. His ability to balance the keep-your-head-down and don't-rock-the-boat worker mentality with the secret life of a uncontrollable gambling addict, was an incredible dual persona performance. There's a scene near the end where Hoffman fiddles with a broken rear-view mirror in his frozen car that captures a quintessentially Canadian moment.


The Master (2012)
Although I admit to having emerged from the Master wondering what the hell just happened, I was sure about one thing: Hoffman was brilliant in it (whatever it was). His character of Lancaster Dodd was a riveting combination of evil genius, cult guru, shaman and snake oil salesman.
It was the apex of Hoffman's powers - to make you intrigued by characters who are dysfunctional and detestable; to bring to life these kinds of pained characters; to make them flesh and blood, and have you care about them and even cheer them on. It was a wondrous gift and his absence leaves a gaping void in the cinematic landscape. Thank you, Philip Seymour Hoffman.